Discounted Pegasus Theatre tickets
Discounted Pegasus Theatre tickets
25 April 2022 (by Amanda Edwards-Day (Amanda))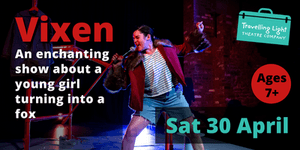 Message from Pegasus to St Frideswide families:
This Saturday we have a charming show for ages 7+. By the award-winning Travelling Light Theatre Company, this 5* show is a beautiful original story from Matt Grinter about a young girl turning into a fox.
We would like to offer you a 25% discount with code VIXEN25.
Tickets are on https://pegasustheatre.ticketsolve.com/shows/873630510 or call 01865 812 150 to book.