Swanage crew - final day
Swanage crew - final day
4 April 2022 (by Beth Taylor (Beth))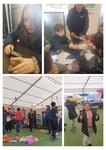 What a great final morning!
As it was pouring down with rain, our instructors put together a great geology session and a circus skills session.
We learnt about how fossils are made and how to identify different fossils, minerals and rocks.
In circus skills we learnt how to juggle using the "elephant, elephant, tiger, tiger" method, and practised balancing spinning plates and feathers.
We enjoyed burgers for lunch and are on our way home. We have just joined the a34 and are due back around half past 3!