Explorers Mental Health Research and Talk
Explorers Mental Health Research and Talk
18 January 2022 (by Zoe Goodin (ZoeG))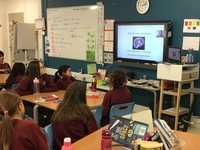 Dr Alex came to talk to Explorers about mental health and our different emotion sytems today. It was really interesting and we learnt how soemtimes what we imagine seems real, like biting into a lemon!
Dr Alex invited students to participate in an online survey - keep your eyes out for the letter going home.
If you would like to know more join the parents information zoom this afternoon at 3:30-4:00 p.m.
https://us02web.zoom.us/j/6130943092?pwd=YUtSeGsrRDV6dDI3NUFQVWQzbDRVdz09
Any child between 10-16 years old can participate in the research.