LET's GO TO THE PEN DISCO!!
LET's GO TO THE PEN DISCO!!
25 November 2021 (by Laura Thornton (LauraT))
Mark Making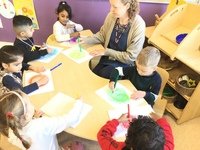 The children in Coral Reef have been having fun every Friday at our 'Pen Disco' We practise making different marks on paper to pop music. It is really helping to develop the children's motor skills, grip, control and confidence when using mark making tools, ready for writing! If you come to our open day on Saturday 9-11am you will be able to see and join in, in our live 'Pen Disco' sessions that will be happening in the Coral Reef Classroom.