OCC Home Improvement Agency Drop in Session 24th November 8.30 -10am
OCC Home Improvement Agency Drop in Session 24th November 8.30 -10am
15 November 2021 (by Amanda Edwards-Day (Amanda))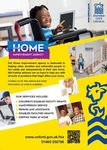 Message from OCC Home Improvement Agency:
Oxford City Council's Home Improvement Agency is dedicated to helping disabled and vulnerable people to live safely and independently in their own home. We see children and young people with a wide range of diagnosis, including Autism Spectrum Disorder, ADHD and complex physical conditions. Safety in and around the home can be one of the main areas of concern for parents of children and young people with Autistic Spectrum Disorder and ADHD.
On Wednesday 24th November from 8.30am to 10.00am our children's occupational therapist and caseworker will be holding a drop in session at school and will be on hand to answer questions regarding Disabled Facility Grants (DFG), home safety and to provide general advice.
We have many invaluable grants, benefits and sources of advice available, including:
Children's Disabled Facility Grants (DFG's)
Home safety and essential repairs for children with a disability or a long term condition
Minor works
Please visit www.oxford.gov.uk/hia for more information.