A visit from Barney!
A visit from Barney!
23 September 2021 (by Lauren Arbour (Lauren))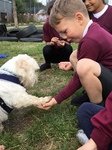 In English this term some of us have been exploring persuasive letter writing and just how persuasive we can be. This week we wrote letters to Adele and Barney telling them all the reasons why they should visit us... and they did! We had a lot of love to give and share with Barney. He even performed his best tricks for us.